Do you want to try the world's most innovative holographic technology?
Experience a virtual summit of NASA scientists in space, or maybe have a deep dive into the Titanic's sinking to feel like you're really there.
Microsoft Hololens is the most-advanced augmented reality the world has ever known. Developed by Microsoft, the Hololens allows for users to experience anything they can imagine, while still feeling present in the real world.It lets users create a virtual component of their surroundings. With the help of hololens you can change your surrounding in virtual environment where you can interact with Dinosaurs.
Features of Microsoft Hololens-
Turn your imagination into reality with the Microsoft Hololens. See the world in a new way and immerse yourself in an interactive experience that's only possible through holograms.
Hololens has a custom Microsoft Holographic Processing Unit, with a SoC: Qualcomm Snapdragon 850 Compute Platform and 4 GB LPDDR4x system DRAM and 64 GB UFS 2.1 storage. Its two 2.3M holographic lenses the Hololens can track your eyes, allowing for more seamless experiences. This high-tech device includes two HD displays with an automatic pupillary distance calibration to provide the best visual and audio experience possible.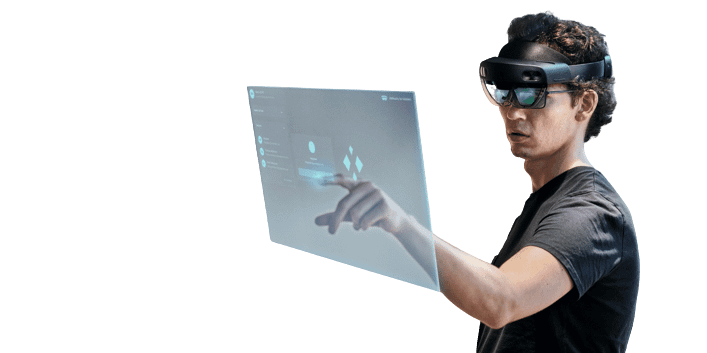 Why to Choose Microsoft Hololens for your Event
Microsoft Hololens is a powerful and versatile holographic computer, designed for your most demanding tasks and environments. Hololens is the first self-contained, cord-free, and fully untethered holographic computer. The device's see-through lenses display vivid, high-quality 3D imagery that comes to life in your world.
With Microsoft HoloLens, you can collaborate with audience and arrange a virtual event and access a robust ecosystem of applications that are supported by the security, reliability, scalability, and intelligence of the Microsoft Cloud.
Here for you
Call us 24/7. We are there for your support
Mobile : 98118 85503
About us
We are the leader and Expert in Virtual Reality / Augmented Reality Event Management. We also provide VR / AR Device on Rent
Where to find us
214, Assotech business cresterra, tower 1, sector 135, Noida expressway, Noida, 201305